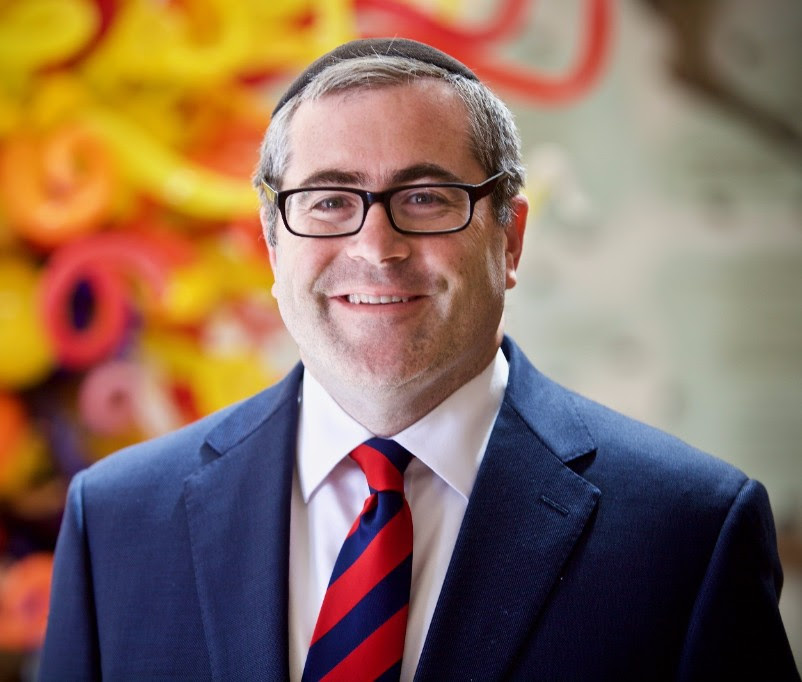 Dear Aish Family,
My travels take me to all sorts of interesting places. Traveling around the world to spread the light of Torah is a privilege and a mandate for all of us to pursue. Still, no matter where I find myself, I am able to stay in touch via video conferencing.
Running late this past Wednesday, I had to attend a meeting from my cell phone. The meeting was about Aish HaTorah's work in Latin America and had participants from Israel, Mexico and Chile waiting for me. I apologized for being late and mentioned that this was the first time an Aish conference call was attended from where I was. That was when I told them I was at the Brooklyn District Attorney's office. At first they were nervous why I was there. I quickly explained that the Brooklyn DA was a fan of Aish and wanted to discuss a few things with us.
The meeting was set up by an old family friend, Michelle Weber, who is the Chief of the Elder Abuse Unit.  At the meeting, I got to spend time with David Klestzick, the Deputy Chief of the Trial Division (who is a fan of Aish.com) and the District Attorney Eric Gonzalez. To be honest, I did not know what to expect. There was a time in my career when I spent a lot of time working with law enforcement and the DA's office but since I have been at Aish, I haven't spent much time in those circles.
As it turned out, I was blown away by DA Gonzalez. By far and away he was one of the most thoughtful men I have ever spent time with. He does not view his job as simply locking up criminals. He cares deeply about the communities he services and his goal is to make them partners.
He has a plan that he shared with me called Justice 2020. It is a road map for what he viewed as how to reshape criminal justice for the future. Some of the chapter titles were: Engage Communities as
 Partners in Justice and, Reduce Incarceration – Make Jail the Alternative.
DA Gonzales views his position not only as one where he has to get some stuff done. He views his responsibility as a leader. He chooses to lead and engage deeply with the communities he serves.
I walked away thoroughly impressed by what DA Gonzales has accomplished and I started to think about our community. Our Rosh Yeshiva, Rav Berkovits Shlita has said from the first moment he walked back into Aish that we need a plan. The plan has to be comprehensive and it needs to lay out how we can re-engage so many of our lost brothers and sisters. This plan can only be done with the involvement of all of you. Meaning that we need the Jewish community around the world to come together and make this a priority.
The Chief Rabbi of South Africa, Warren Goldstein, started a worldwide phenomenon just a few years ago. Who thought that social media around the world would be filled with Jews obsessed with the Shabbos Project. Rabbi Goldstein taught us that Jews want to reach out to each other. They only need the right tools.
Our founder and mentor Rav Noach Weinberg, z'tl sent out Rabbi Chaim Sampson with Stuart and Andrea Hytman to start Project Inspire to get communities around the world focused on our lost brethren. They have been successful and are expanding their reach every day.
I have personally seen their Tisha B'Av film about the life of Rav Noach Weinberg. I recommend that all
 of you click on this link and make sure to access it on Tisha B'Av. You will see the power of one man's ability to change the world. Let us focus this Tisha B'Av on thinking about the plan that will bring our brothers and sisters back. If we get this plan right then the Almighty will make sure that next year we will no longer be fasting on Tisha B'Av. We will be celebrating in our Temple in Jerusalem.
Shabbat Shalom!