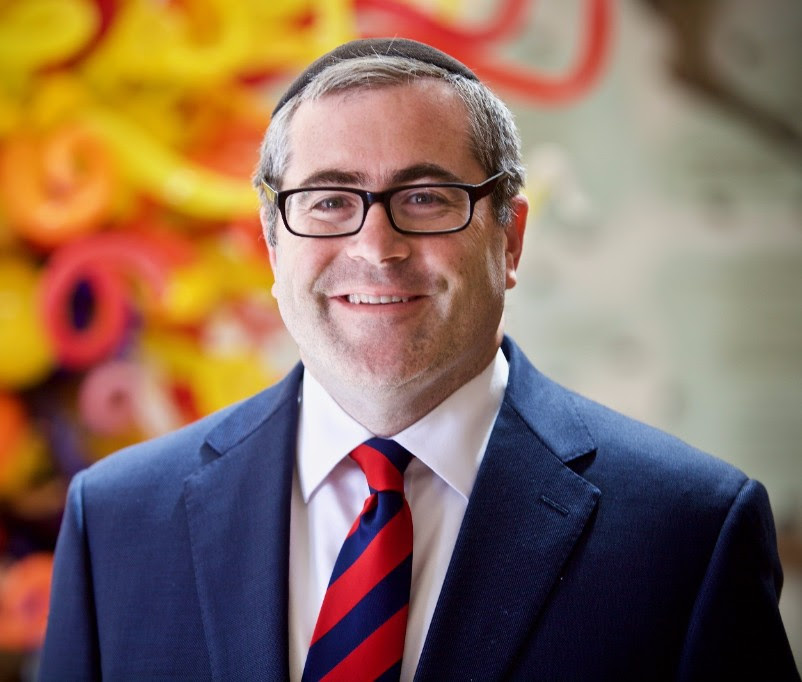 Dear Aish Family,
Often I use the term "United Nations of the Jewish People" to describe the Dan Family Aish HaTorah World Center. This past Friday, we literally became the UNJP. It started on Friday when we welcomed back Israel's UN Ambassador Danny Danon.
Ambassador Danon, who is a long time friend of Aish, brought 30
UN Ambassadors to Poland and Israel. Hosted by long time Aish Partner Marc Goldman, we started on the roof where Rabbi Etiel Goldwicht explained the Jewish historical connection to the Temple Mount going back 3000 years. We then proceeded to the Kirk Douglas Theater where we screened some of Aish.com's top videos.
We concluded their visit by having lunch in our lobby. It was at that time that I was able to speak to the group. I quoted a Torah thought from the first Chief Rabbi of Israel Rav Kook. After I spoke, the Ambassador from Latvia approached me to tell me that Rav Kook came from Latvia and he invited me to visit to see his birth place.
We said goodbye to our prestigious visitors and quickly got ready for our next round of Ambassadors. Before Passover, I received a call from Aish's close friend and Senior Advisor to the US Ambassador to Israel, Aryeh Lightstone. He told us that Ambassador Friedman was going to be bringing a group of US Ambassadors from other countries to Israel for Shabbos and asked if Aish could host the Friday night meal. We of course readily agreed.
After witnessing a lively davening at the Western Wall, we went up for Shabbat dinner on the Ronald and Sandra Schiff Fifth Floor Terrace of the Aish World Center. That is my personal favorite spot to host groups because it has instant access to the Diener Family Terrace and the magnificent view of the Kotel. It was a mixed group of political officials and prominent business people. Many of the speeches were quite powerful but one left me truly moved as a Jew.
A participant in his 80's got up and explained that both of his parents had been from Poland and as a child he experienced antisemitism. Yet this was his first time in Israel. He said that for the past 18 years, every summer he and his wife, who is a world famous actress, would vacation in the South of France. Like clockwork he would make reservations in the King David Hotel every year and for one reason or another he wouldn't make it to Israel. When he received the Ambassador's invitation, he knew he had to come. With tears in his eyes, he said that this trip had been the highlight of his life and his only debate had been whether to extend this trip or to book his next one right away.
It is hard to put a Jew's experience walking the streets of Israel into any words. Whether someone is rich or poor, famous or anonymous, old or young, every Jewish heart yearns for the land of Israel. The past two weeks have been difficult with hundreds of missiles raining down on Israel. Yet the Jewish people will always stand strong when faced with adversity. We know no other way. May the Almighty bless the Jews of Israel with peace and may all of our brothers and sisters join us as soon as possible in Israel.
Good Shabbos!