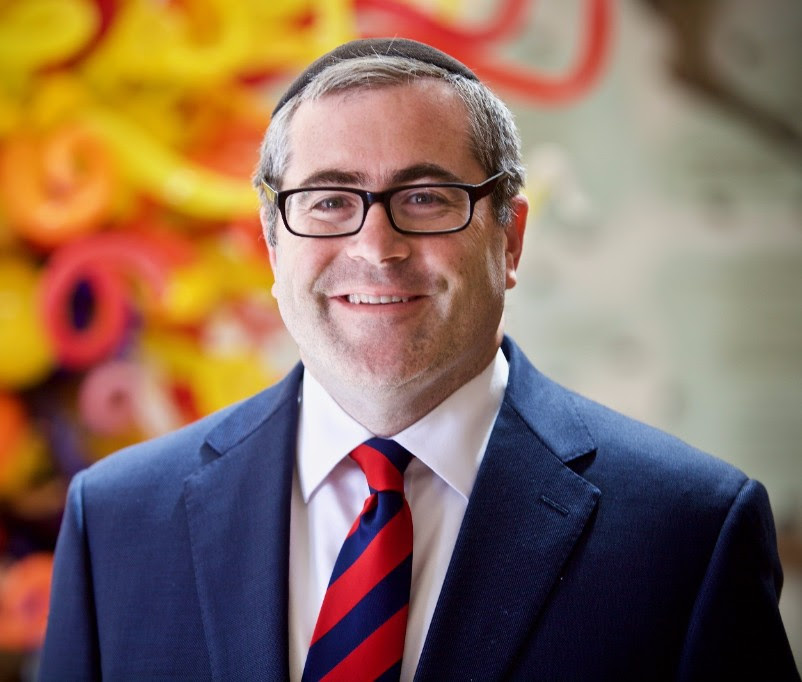 Dear Aish Family,
It is not every day that The Dan Family Aish HaTorah World Center receives a visit from the Guinness Book of World Records. Official Guinness Judge Jack Broadbank came to determine if Aish HaTorah was now in possession of the world's largest Mezuza.
I had no idea that there was a category for this but a few years ago, Dovid Roitman, the owner of a high end Judaica store in the Old City, approached us with the idea that the world's largest Mezuza should be housed at Aish HaTorah. Last year, he created a Mezuza case that was dazzling and can be seen at night from the Kotel plaza, as it has hundreds of small lights that show multiple Judaic scenes in action. At the time, there was just a small scroll that was placed inside. Now it was time for a scroll to match the case.
After some stirring words from Aish Executive Director Ariel Kotler about how the Almighty watches over and protects the Jewish Nation through the power of the Mezuzot, we were ready to hear the judge from Guinness. The previous record set in 2004 was length- 94 cm, width – 76 cm, container 140 cm. Our Aish Mezuza was (drumroll please) length- 143.3 cm, width- 80.3 cm, container 153cm!! It was official. The Aish Mezuza was the largest in the world!!
The question, which I'm sure all of you are thinking right now, is: Why? Why would we go to all the trouble to create and house the world's largest psychedelic Mezuza? Last year we had over 150,000 people come through our building. Very few of them ever stopped to ask why we had a Mezuza on all of our doors. Now we get the question constantly and we happily explain the symbolism and importance of the Mezuza.
We couldn't be prouder of our partners Manette and Louis Mayberg who have made putting a Mezuza on every Jewish home a priority for their foundation. They have created a website called myzuzah.org to help accomplish this goal. They are our inspiration.
We, the Jewish people, must be public about our rituals and observances. We need our brothers and sisters to ask us questions. We need to explain to them why we do the things we do. How it connects us to the Almighty and to each other. I look forward to greeting all of you this summer at the site of the world's largest Mezuza at Aish HaTorah.
Good Shabbos!