Dear Aish Family,
At A
ish HaTorah, we have been blessed to extend our presence to so many countries. You would be hard-pressed to find a Jewish community around the world that has not been touched by our efforts. This past week I spent some time in a city a little closer to our global headquarters in Jerusalem. I went to Tel Aviv.
Aish Tel Aviv had beautiful offices near the beach where so many would come for classes. Recently they moved their offices, so I went to see their new location. I admit I was suspect at first that this new spot would be an improvement. After all, what can be so special about offices at WeWork? It turns out that WeWork and Aish are a match made in heaven.
For those of you who are not familiar, WeWork is a global network of workspaces. You can lease an office and wind up sharing common space with so many different professionals. It is a diverse community built at the places "we work." As I walked into the building I was struck by the diverse crowd of Israelis. It seems that WeWork is a melting pot of creativity for people of all backgrounds. What impressed me even more, was the warm welcome that Rabbi David Ziering and Rabbi Ephraim Shore received from almost everyone there.
At WeWork, Aish Rabbis are seen as fellow professionals working in this community. Come holiday time any questions that come up are directed to the Aish Tel Aviv offices. Aish is literally positioned at the cultural hotspot of Tel Aviv.
We had an Aish Tel Aviv board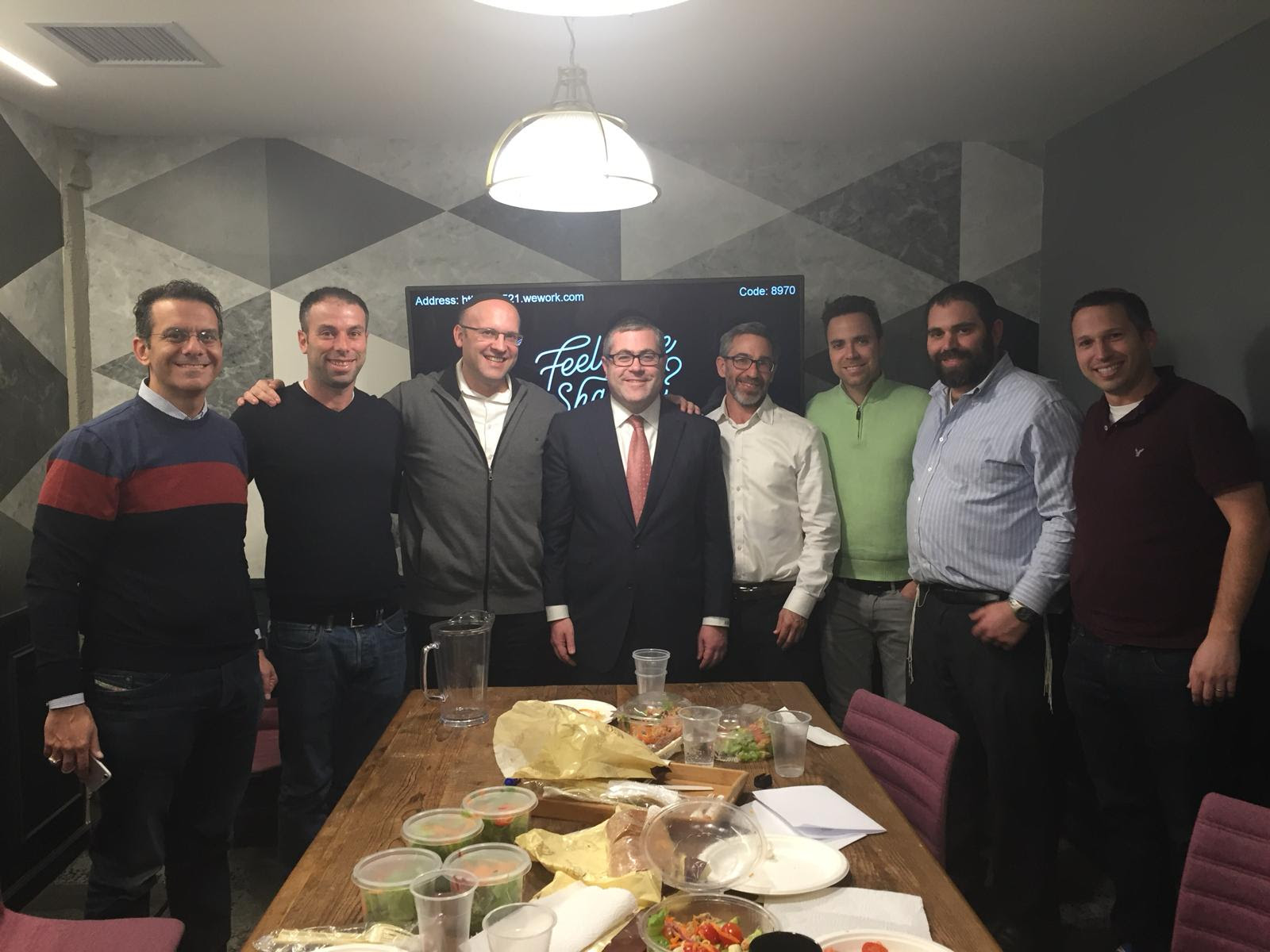 meeting which was also truly amazing. It was a group of really successful business people who wanted to understand the direction of Aish Global and how we could play a bigger role in Tel Aviv. One of the board members who is a very successful attorney and former IDF officer explained to me that until he was an adult and attended an Aish event he never heard Kiddush in his life.
So many times we assume that because Israelis know Hebrew and live in the land given to us by the Almighty, they must know "Jewish stuff." The opposite is true. There are so many Jews in Israel who know nothing of their heritage. Aish Tel Aviv is working hard to change that situation.
The beauty of the WeWork partnership is that we have our classes there at night when the space is fairly unoccupied. This gives so many young Israelis the ability to come to a space that is not intimidating.
I couldn't help but think that this represents what Aish has always been about. For 40 years we have always tried to stay relevant to our brothers and sisters. We started a seminar called Discovery, for Jews to understand the Almighty, in a cutting-edge educational way and sent it around the world. When the World Wide Web started we were right there with Aish.com. We started trips to Israel before they were popular under Aish Fellowships and that led to the creation of JWRP and Birthright. Our videos were second to none and that spawned Jerusalem U. When the time came to advocate for Israel, Aish created Hasbara Fellowships and Honest Reporting.
Aish HaTorah has always known one thing to be true. While the Almighty's Torah will never change the delivery mechanisms do. We need to always focus on the best way to reach out to our Jewish brothers and sisters. You can always count on Aish to be focused on the next "Big Thing." So WeWork, here we come.
Warm regards and good shabbos!