Dear Aish Family,
There are times when I honestly think I have the best job in the world. This past week certainly was one of them. In preparation for the upcoming Aish HaTorah Partners Conference, I visited with one of my heroes, Rabbi Yisrael Meir Lau. As I told one of our students this past week, his life symbolizes all of Jewish history. Rabbi Lau rose up from being a child Holocaust survivor of Buchenwald to become the Chief Rabbi of Israel.
Even in retirement, Rabbi Lau is incredibly active. After we met he had to run to the airport to go to Miami on the first nonstop flight from ElAl so he could speak at the ceremony when they landed. After talking for a while we shifted to an interview that he happily gave to Rabbi Simmons of Aish.com.
Rabbi Simmons launched into a wi
de variety of questions. One of the queries was how do we unify the Jewish people. In Israel, there is such a divide between the secular and religious. How do we overcome the things that tear us apart?
Rabbi Lau immediately named one of the famous secular Israeli politicians and asked us where do you think he ate his festive meal on Rosh HaShana night? Where do you think he was for the Passover Seder? Where will he come during Chanuka to light a Menorah? The answer to all these questions was the same. To Rabbi Lau's home!
Rabbi Lau explained that he was able to work with this secular Israeli Politician on a whole range of religious and legal issues because they were first and foremost friends. In the end, "Chulent" (a traditional meat dish) can bring people together better than anything else.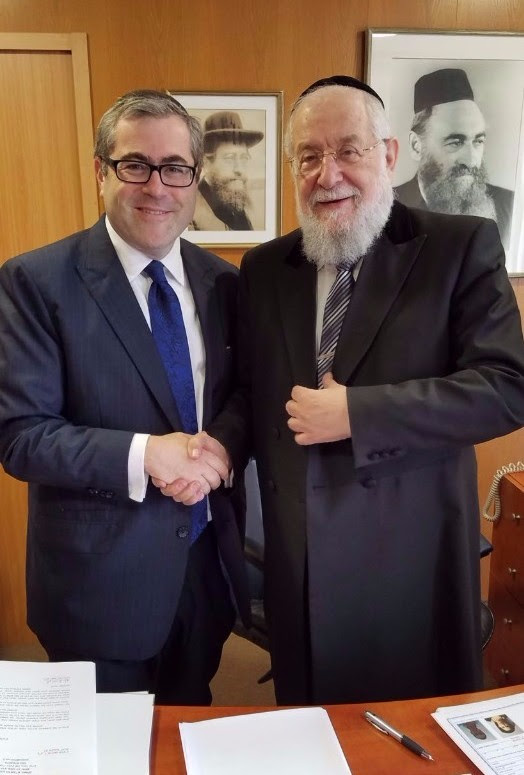 To hear a Holocaust survivor, former Chief Rabbi talk about the Shabbos table as the catalyst to unity was beautiful. Indeed we need to spend more time with each other to create Jewish unity.
In the spirit of unity this past week practically the whole Jewish world celebrated the Shabbos Project. I was blessed to find myself in my hometown of Brooklyn, NY attending a program coordinated by Aish's Project Inspire and sponsored by my good friends Isaac and Edie Gross. All around the world Aish branches celebrated and reached out over Shabbos. There is no doubt that the Almighty was smiling as his children got together on this holy day.
In just two weeks we will be privileged to come together at the Aish HaTorah Partners Conference in Stamford, Ct with Chief South African Rabbi Dr. Warren Goldstein the founder of the Shabbos Project and my hero, Rabbi Lau. I look forward to greeting all of you there and talking about how to build Jewish unity. There is no doubt that the Almighty will be smiling there as well.
Warm regards and good shabbos!